Avoid side-collisions in Santa Cruz, California with Honda LaneWatch
Has this ever happened to you: You're driving around Salinas CA about to change lanes when suddenly a car emerges from your blind spot, and you barely avoid a side-collision?
Those dangerous days are behind you now, thanks to Honda LaneWatch, a driver-assistive feature that allows drivers to enhance their view of passenger-side traffic, while providing a view almost four times greater than using just the passenger-side mirror.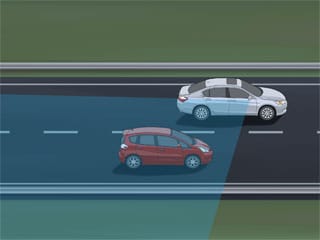 Honda LaneWatch uses a camera mounted on the bottom of the passenger-side door mirror that provides a constant real-time display of passenger-side traffic on the i-MID. Yellow and red guidelines designate distances on the display, helping drivers judge distances of other traffic.
Honda LaneWatch is meant to be a driver enhancement, not a substitute for visually confirming that it's safe to change lanes.
Drivers must always use their mirrors as well as look around and behind the vehicle before changing lanes.
This award-winning technology will give you confidence when changing lanes and help prevent avoidable side-collisions. What are you waiting for?
Click here
to shop Ocean Honda's New Honda Inventory!