Avoid front-end collisions in Santa Cruz, California
Here at Ocean Honda, we know that you're always driving, whether it's down Cabrillo Highway to Monterey or up Santa Cruz Highway to San Jose CA. With all that driving, your chances of common frontal collisions increase. What can be done to reduce the number of these dangerous accidents? Introducing Honda's Collision Mitigation Braking System (CMBS), a radar-based autonomous emergency braking system designed to reduce the likelihood of you hitting a vehicle ahead of you in traffic.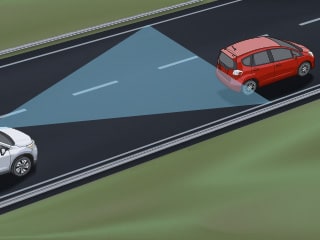 CMBS assists your braking operation by automatically applying a suitable amount of braking force to help you avert or reduce the chances of hitting a vehicle ahead of you in traffic. CMBS's
wave radar sensor in the front grille
scans up to 330 feet of the road ahead.
When your Honda car ventures too close to the vehicle ahead, CMBS initiates a warning beep, causes automatic application of the brakes, and causes the e-pretensioners to tighten the front seat belts.
CMBS includes three stages of visual and audible warnings for potential collisions.
Stage 1: Visual warnings and audible alert
Stage 2: Visual warnings, audible alert, and light brake application
Stage 3: Visual warnings, audible alert, and strong brake application

The system does have limitations and will not detect all possible obstacles, such as pedestrians or motorcycles.
CMBS is the one safety feature you can't live without!
Click here
to shop Ocean Honda's New Honda Inventory!