Avoid Collisions with Honda's Lane Keeping Assist System in Santa Cruz, California
How easy is it to drift out of your lane while on the highway? Well not anymore. With Lane Keeping Assist System (LKAS), never drift again. LKAS uses a camera to identify lane markings and assist steering by helping maintain your vehicle's position in the middle of an identified lane.
The electric power steering system applies torque to return the vehicle to the middle of the lane should any drifting occur, as more torque is applied the further the vehicle departs from the center of a detected lane.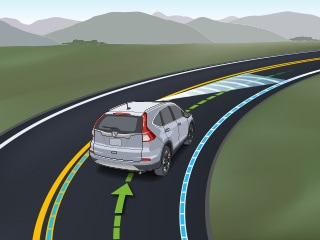 Turning the system on and off is as easy as pushing two buttons. Activate the system by pressing the steering wheel's "Main" button, followed by pressing the LKAS button on the steering wheel. The system is active once d
otted lane lines materialize on the Multi-Information Display (MID),
and the lane lines will become solid once the system has detected the road's lane markings. Turn off LKAS by pressing either the "Main" or LKAS button on the steering wheel, or turning the engine off.
If any of the following conditions occur, the system will not operate:
if drivers take their hands from the steering wheel, if no lane markings can be detected, if vehicle speed drops below 45 miles per hour, if the road is more than slightly curved, if a turn signal is on, if the brake pedal is pressed, if the camera is obstructed, or if the wipers are on. Also, the system may abruptly apply torque to the steering when lane markings change.
Better avoid collisions and mitigate the damage when they do occur, thanks to the Lane Keeping Assist system from Honda.
If your vehicle doesn't have this necessary safety feature, well, what are you waiting for? Drive Honda Safe on your next road trip from Santa Cruz to San Jose CA.
Come on down to Ocean Honda today to get an incredible Honda vehicle equipped with Lane Keeping System! Click
here
to shop our new Honda Inventory.