Honda is proud to invest in Santa Cruz, California
Honda is proud to have a long-standing commitment to invest in America – building where we sell.
Honda has the longest sustained U.S. manufacturing presence of any international automaker, and has contributed to the U.S. economy through manufacturing, R&D, sales, finance, and more — and all based here in America.

The next time someone calls your Honda a "foreign car" (there's always one!), you can let them know that it came from right here in the U.S. and all of the ways Honda is investing in America.
Manufacturing Millions of Products Each Year


11 plants: State-of-the-art manufacturing facilities that produce Honda & Acura vehicles and their engines, transmissions, and components, aircraft and aircraft engines, power equipment, and powersports products.
21M vehicles produced: Total Honda & Acura vehicles made in U.S. since 1982.
33 years: The Marysville, OH Auto Plant is Honda's longest operating U.S. plant and was the first in the U.S. from a Japanese automaker.

Investing Across the Country


$16B capital investment: Total investment in U.S. operations.
70 facilities: U.S. operations include state-of-the-art manufacturing plants, R&D centers, parts centers, and marketing, sales, and finance offices.
$870M new investment: 2014 investment into U.S. manufacturing plants to support new technologies and product lines.




Buying From Local Suppliers


557 OEM suppliers: U.S. original equipment manufacturers (OEM) that supply parts and materials to Honda manufacturing facilities. An additional 16,800 service suppliers also support Honda operations.
$35B: Honda purchased $23.4B parts and materials, $10.6B in goods and services, and $1.6B in service parts from U.S. companies last year.
$7B: Honda investment into U.S. supplier operations to provide advanced tooling technology.


Exporting from America to the World


96 countries and territories: Markets in Asia, Latin America, Europe, and the Middle East to which Honda exported last year — 53 markets for autos and 77 markets for power equipment, powersports products, and service parts.
1.1M vehicles: U.S.-made Honda & Acura vehicles exported since 1987.
$3.5B exported: Value of U.S.-produced vehicles, power equipment, powersports products, & service parts Honda exported from the U.S. in 2013.

Innovating Millions of Products Each Year


25 models designed in U.S.: Honda & Acura car and light truck models that have been researched, designed, and developed in the U.S. since 1991.
14 R&D facilities: Honda has invested nearly $800M into its U.S. R&D operations that perform all aspects of new product creation.
10 top safety picks: Honda & Acura 2015 model year vehicles that received IIHS Top Safety Pick or Top Safety Pick+ rating.

Hiring and Training Workers


9,500 associates: U.S. employment, with 73% in manufacturing
$2.2B payroll: U.S. payroll in 2014.
153K dealer jobs: Employment across the U.S. at American Honda auto, power equipment, and powersports dealerships.






Honda's U.S. auto production has steadily increased over the past 33 years, having reached an all-time record for U.S annual sales in 2015, with total numbers reaching 1,586,551 for Honda and Acura combined.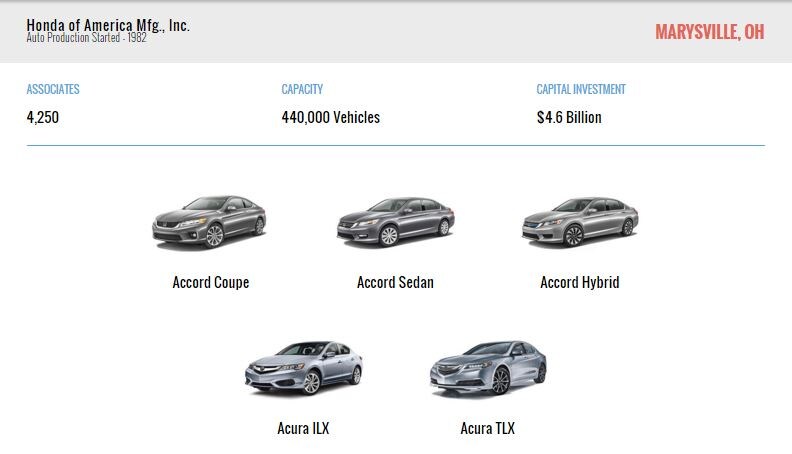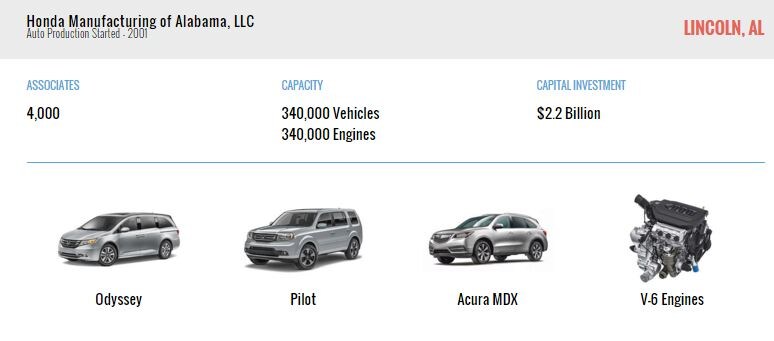 Honda not only manufactures 97% of its U.S. auto sales in North America, the highest rate of any international automaker, but has become a net exporter — exporting more vehicles from the U.S. than it imports from Japan. Honda has maintained a local auto production rate of 75% or higher for over 15 years.
Did You Know?
Honda U.S. manufacturing operations began in Ohio and have grown to include 11 state-of-the-art plants in six states.
Honda exports vehicles and products from 12 U.S. ports and to 96 countries and U.S. territories around the world.
Honda has 14 U.S. R&D centers, more than any international automaker. In three California centers, associates conduct product and advanced design, market and technology research, and information technology research and development.
Honda has received environmentally-friendly building certifications from LEED, Energy Star, and Green Globes.
Ocean Honda is proud to sell new and used Honda vehicles made here in the U.S. For more information, call us at (888) 427-6057 or stop by Ocean Honda at 3801 Soquel Dr, Soquel, CA..
Source:
Honda in America
* Figures are based on data from 2014, unless otherwise noted