2017 Honda HR-V, CR-V, Pilot and Odyssey available today in Salinas, California
U.S. News & World Report released its 2017 "Best Cars for Families" list, and we're proud to announce that four Honda vehicles took first place in their respective categories: Honda CR-V for Best Compact SUV, HR-V for Best Subcompact SUV, Honda Pilot for Best Three-Row SUV and the Odyssey took first place for Best Minivan.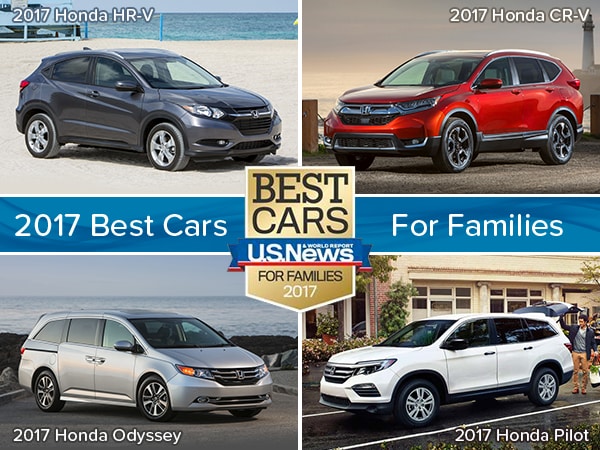 "All of the features included in our award scoring have either been shown to reduce accidents or make family life easier for our editors when they've tested cars," said Jamie Page Deaton, managing editor of U.S. News & World Report's Best Cars rankings. "We cut through the marketing fluff to focus only on features that can really help families."
Honda garnered four wins, more than any other single brand, for the third year in a row. The HR-V and CR-V offer the most cargo and seating space in their respective classes, while the Pilot boasts good cargo and passenger space for its class, as well as great crash test scores and accident-avoidance technologies like forward automatic emergency braking and lane keep assist. The Odyssey won for the seventh consecutive year.
The CR-V and HR-V are also winners of the 2017 Best Cars for the Money awards due to their combination of excellent quality and long-term value.
What makes a Honda suitable for the whole family? U.S. News based their selections on vehicles with the best combination of positive reviews from professional car critics, safety ratings, space, and available tech features.
When Will We See You?
When will you make your VIP appointment to test drive Honda's Best Family Cars? Let us know in the comments section below!

For pricing and availability info, browse our new Honda SUV & Minivan online inventory, call us at (855) 353-3952, or stop by Ocean Honda at 3801 Soquel Dr in Soquel CA.
Source: US News
View U.S. News Best Cars at www.usnews.com/cars.
The 2017 Honda HR-V and CR-V have been named the Best Cars for the Money in their respective categories by U.S News. View U.S. News Best Cars at www.usnews.com/cars.