Avoid Collisions with Honda's Lane Keeping Assist System in Santa Cruz, California
How easy is it to drift out of your lane while on the highway? Well not anymore. With Lane Keeping Assist System (LKAS), never drift again. LKAS uses a camera to identify lane markings and assist steering by helping maintain your vehicle's position in the middle of an identified lane.

The electric power steering system applies torque to return the vehicle to the middle of the lane should any drifting occur, as more torque is applied the further the vehicle departs from the center of a detected lane.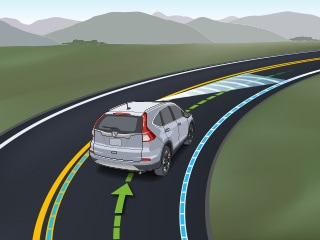 Turning the system on and off is as easy as pushing two buttons.